Fixing Dave's Quick Search Deskbar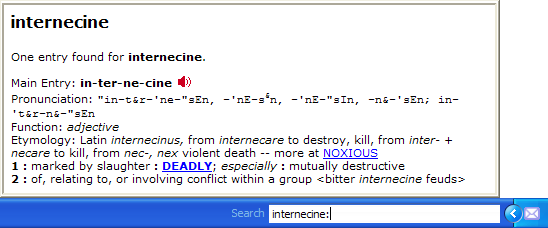 I'm a long time, loyal fan of
Dave's Quick Search Deskbar
, from both the perspective of usability and efficient use of screen space.
What you see above is the result of the following workflow:
Typing <Windows>+s (Brings focus to DQSD)

Pasting "internecine"

Typing :, and hitting <Enter> (":" says to search for the text at the Merriam Webster website.)

That brought up the definition of the word in a popup window, above the system tray.
If I hadn't typed the colon character, it would have done a google search by default. Other frequently used search specifications are:

wik (Search wikipedia)
imdb (Search the Internet Movie Database)
/images (Search google images)

There are hundreds of other searches. But a core 5 or so is all I use. Here are some of my personal preferences in localprefs.js:

showbutton = 0;
autocomplete = true;
historylength=100;
clocklongwidth=239;
helptime = 100;
displayHelp = false;
bannerurl    = ""

And here is the crucial alias in localaliases.txt:

:|mwd /p %s

The boon here is never using the mouse (if my hand isn't already on it). With (usually) two extra key presses I can get to the definition, synonyms, images, maps or encyclopedic material of the subject, whatever I want.
That may sound like a small deal, but saving the browser space from yet another toolbar, and halving my effort to achieve my goal makes my user experience significantly better.