Two Screens of iPhone Apps

Well, that particular
ultimate list of iPhone apps
didn't last long. Since then, some new apps have earned their way onto the phone, displacing other apps, since I strive to only have two screens worth of apps.
Here's what I've got on the phone:
The "Home" Screen
A link to
Google Calendar
replaced the native Apple Calendar app. I'm not interested in paying for Mobile Me, and Google Calendar now has a Windows native app for syncing with Outlook.
I've added
Tiltshift Generator
to the front page so that it'll be next to the camera.
Convert
made it to this screen, just because it's cool. It's in danger of getting dropped for a more useful application.
Tripit
is here because the service is just so insanely useful. I've also added my Tripit calendar feed to my Google Calendar. So reservation confirmations automatically get updated to my calendar. How cool is that?
Rounding out the list are
Movie Genie
(terrible icon), an awesome IMDB app, and
Wikipanion
. As awesome as Movie Genie is, it's not better for me than my own
custom movie ratings page
. We'll get to my awesomeness later.
Notably missing from this page is
Camera Genius
. I desperately need to be able to crop photos before I share them directly from the phone. But I really don't know if that's the right app for me.
Also notably missing is
IDriveLite
, which I do have, for backing up my contacts. If I weren't already using Microsoft Exchange ActiveSync for another email account, I'd use that to sync my contacts with GMail's contacts. But as things are, I need IDriveLite.
The "Auxiliary" Screen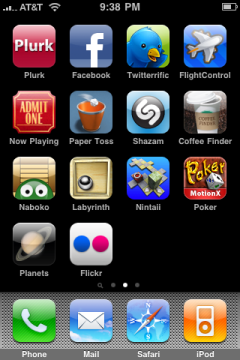 I don't think that this screen has changed too much from the previous screenshot. A welcome addition is the
Flickr
app.
If we were to see a
heat map
of my usage of this screen, Plurk would be red hot, and everything else very cool. I've got local friends who are
way into
facebook. I'm trying to maintain an interest in it, but, meh.
Honestly, I have no use for Twitterific. That should go. I follow my friends' tweets from
my custom feed
.
In order to conserve swiping, I should move Plurk from here to the main screen, regardless of the fact that I think it "logically" belongs here.
The rest of this stuff? The games? I don't really play games much on the iPhone right now. Let's see how my behavior changes in a few months...
Some of you may notice that the image indicates that there's another page. Yeah, that's the garbage heap where I tossed Weather, iTunes, Messages, Compass, Voice Memos, Calendar, etc.